Day 1 :
Keynote Forum
Cas di Cura San Pio X
Italy
Time : 10:35-11:05

Biography:
Franco Vicariotto, Medicine Doctor specialist in Obstetrics and Gynecology and is now senior consultant of San PIO X Hospital of Milan. He has been deputy head of division of Obstetrics and Gynecology of Niguarda Hospital of Milan for almost 20 years where he had conducted important researches in the field of Infectious Diseases in Obstetrics and Gynecology. He is one of the founders and Vice-president of the scientific society Esidog Italia (European Society for Infectious Diseases in Obstetrics and Gynaecology) and the member of the National board of S.I.C. (Italian society of Contraception). He is author of many publications and recognized moderator-spokesman in specialized conferences in Italy and abroad.
Abstract:
The human vaginal microbiota plays an important role in the maintenance of a woman's health, as well as of her partner and newborns. When this predominantly Lactobacillus community is disrupted or decreased in abundance, Vaginitis may occur. Of the millions of cases of vaginitis each year, most are caused by bacterial vaginosis (BV), followed by vulvovaginal candidiasis (VVC). The dominance of lactobacilli in healthy vaginal microbiota and its depletion in BV and VVC has given rise to the concept of oral or vaginal use of probiotic Lactobacillus strains for treatment and prevention of vaginitis. Probiotics, defined as live microorganisms that, when administered in adequate amounts, confer a health benefit on the host are considered a valid and novel alternative for the prevention and treatment of female urogenital tract infections. Probiotics are well known for their ability to lower intravaginal pH, thus establishing a barrier effect against many pathogens. Some strains are also able to create additional and more focused antagonistic activities mediated by specific molecules such as hydrogen peroxide and bacteriocins. In any case, despite some undeniable positive evidence, other intervention studies have at least partially failed to highlight a statistically significant alleviation of BV and VVC symptoms. This is most likely attributable to the lack of a specific inhibitory activity of the strains used towards the bacteria commonly causing BV such as G. vaginalis and E. coli and VVC such as C. albicans. Herein we present in vitro and clinical data to assess the effectiveness of specific probiotic strains in slow release vaginal tablet for the topical treatment of BV and VVC and the prevention of recurrences.
Keynote Forum
Universidade Federal de Viçosa
Brazil
Time : 11:05-11:35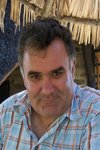 Biography:
Svetoslav Dimirov Todorov has completed his PhD at ENITIAA, France and Sofia University, Bulgaria and Post-doctoral studies from Stellenbosch University, South Africa. In last 8 years, he was a Researcher and Invited Lecturer at University of Sao Paulo, Brazil and Federal University of Vicosa, Brazil. He has published more than 130 papers in reputed journals and serving as a Member of the Editorial Board. He is Reviewer for more than 70 international journals.
Abstract:
In last decades lactic acid bacteria (LAB) have been subject of intensive research in isolation and identification with aim of their application as producer of antimicrobial peptides and beneficial properties. It is well known that many LAB' are capable of producing a variety of antimicrobial compounds which may contribute to their colonization of habitats and their competitive advantage over other bacteria. Besides production of lactic acid which causes a drop in pH enough to inhibit certain strains as its non-dissociated form triggers a lowering of the internal pH in sensitive bacteria that causes a collapse in the electrochemical proton gradient resulting in a bacterio-static or bactericidal effect, LAB can produce other organic acids, diacetyl, hydrogen peroxide and bacteriocins. Currently, the LAB group includes a large number of cocci and bacilli, such as species of the genera Carnobacterium, Enterococcus, Lactobacillus, Lactococcus, Leuconostoc, Oenococcus, Pediococcus, Streptococcus, Tetragenococcus, Vagococcus, Weissella, etc. From a historical point of view, LAB has been used since ancient times in food fermentation processes and preservation. Due to their lack of pathogenicity, most LAB species have received the GRAS. Besides all beneficial properties studied for various LAB, a special attention need to be pay on the possible presence of virulence factors, production of biogenic amines and antibiotic resistance. This virulence determinants have been well detected and studied in Enterococci and Streptococci, however, in last few years report on presence of virulence factors in otherwise GRAS Lactobacilli have been showing the potential upcoming problems. Horizontal gene transfer of virulence factors between pathogenic and LAB including probiotics is a highly possible scenario in case of uncontrolled application of probiotics.
Keynote Forum
Trivedi Science Research Laboratory Pvt. Ltd
India
Time : 11:55-12:25

Biography:
Snehasis Jana has completed his PhD from Indian Institute of Technology-New Delhi, India. He is the Senior General Manager at Trivedi Science Research Laboratory Pvt. Ltd., Bhopal, India. He has more than 12 years of Biopharmaceuticals and Nutraceuticals Industrial Research and Development work experience in different fields such as in vitro and in vivo preclinical and clinical pharmacology/DMPK-Toxicology and clinical trials to evaluate various types of nutraceuticals, herbal medicines and pharmaceuticals including small molecules and protein therapeutics for different therapeutic projects. He has published more than 30 papers in reputed peer reviewed journals.
Abstract:
Obesity is one of the major health problems worldwide and it is a risk factor for several chronic disorders. Plenty of evidences are available in the literature that obesity is due to the excess dietary fat intake or an imbalance between the intake and expenditure of energy. Overweight and obese patients may develop mild to moderate grade of chronic inflammation that leads to the development of insulin resistance. Systemic inflammation is shown in a number of human and mouse models of obesity, as observed with increased plasma levels of inflammatory cytokines such as tumor necrosis factor-α (TNF-α), interleukin-6 (IL-6) and monocyte chemo-attractant protein-1 (MCP-1). The development of obesity is caused by nutritional deficiency from eating high energy foods with poor nutrient content. Therefore, diet with a higher nutrient density reduces their weight and improves obesity-related inflammatory disorders. This indicates that obesity-related pathologies can be prevented or improved by the intake of food containing components that can control inflammation in obese adipose tissues infiltrated with macrophages. Thousands of dietary polyphenols (DPPs) have been identified in vegetables, fruits, whole grains, legumes and other plant sources. DPPs are classified as phenolic acids and flavonoids. There has been tremendous interest on the health potentials of DPPs. DPPs consumption imparts diverse health benefits such as antioxidant, inhibiting free radicals and reactive oxygen species (ROS), anti-cancer, anti-inflammatory and beneficial against osteoporosis, neurodegenerative disease, cardiovascular disease, diabetes mellitus and other metabolic disorders. Existing evidences show that DPPs are effective and promote health via multiple signaling pathways such as lipid anabolism/catabolism pathways and apoptotic pathways. However, for food applications, assessment of DPP extracts may be suitable due to synergistic action of bioactives and are relatively safe.